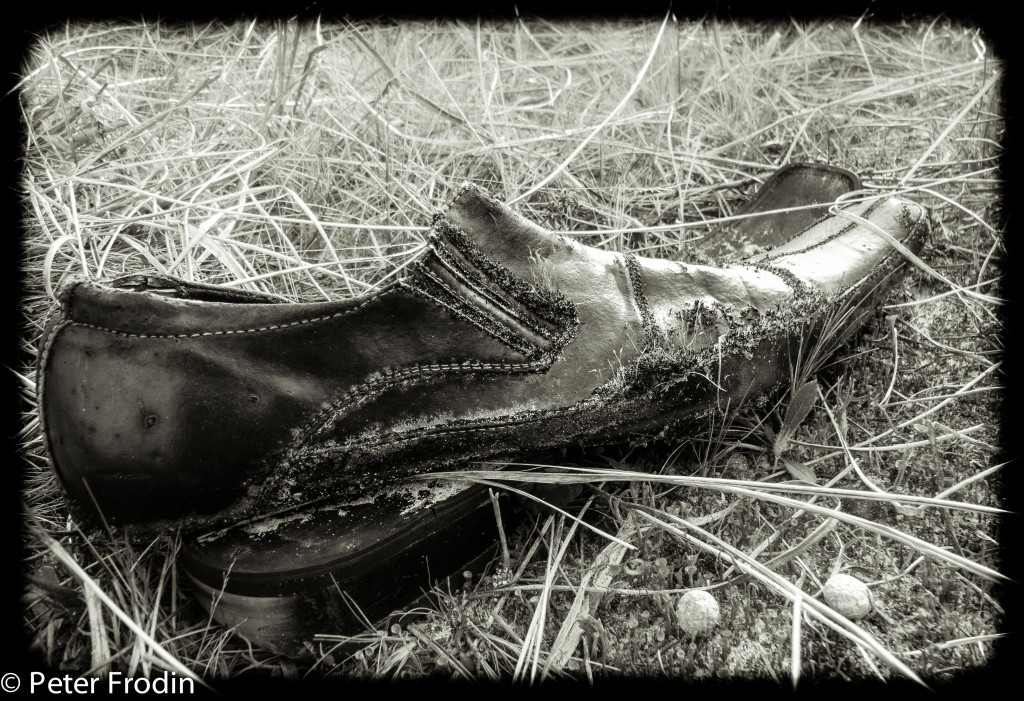 När jag finner lämningar som dessa så börjar jag alltid fundera på vad som orsakade att just detta ligger här. Kan det vara en badgäst som i alla hast inte fick med sig sin sko? Var det kanske en berusad man som inte noterade att ena skon blev kvar på sandhammaren, linkandes hemåt genom sommarnatten i strumplästen på ena foten? Var skon rent av trasig så ägaren bara lät den ligga kvar?
Vem vet, kanske får ägaren syn på just denna bild och känner igen sin sko? Den ligger i så fall bland sandhammarens dynor.
Naturen tar tillbaka sitt kommando med tiden. Ger man den bara tillräckligt med tid så suddas människans spår ut. Mänskligheten och dess spår är förgängliga!
When I find remains like these, I always start to think about what caused this, was there any bathing guest who did not get his shoe with him in a hurry? Was it perhaps a drunken man who did not notice that one shoe was left on the dunes at Sandhammaren, linking home through the summer night in the stockings on one foot? Was the shoe possibly broken so the owner just left it?
Who knows, maybe the owner will see this picture and recognize his shoe? In that case, it is located among the sand dunes of Sandhammaren, Skåne.
Nature takes back its command with time, if you give it just enough time, human traces will be erased. Mankind and its traces are perishable!